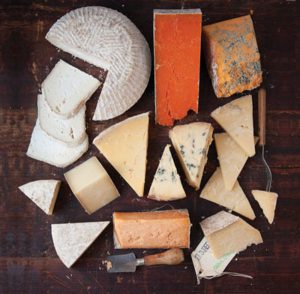 Since the 1970s, a cheese-making renaissance has taken hold on small farms all over England.
Robin Congdon was one of the people at the vanguard, and his Ticklemore, a subtle, delicately textured goat cheese made on the Sharpham estate in Devon, is a modern classic.
Red Leicester, a rich, nutty cows' milk cheese, has been made in Leicestershire for centuries, but the farm-made, clothbound, unpasteurized kind had all but disappeared when David and Jo Clarke began making it on Sparkenhoe Farm five years ago.
It may sound like a traditional cheese, but Shropshire Blue is actually a 20th-century invention; this one, from Long Clawson Dairy, has a fudgy texture, savory flavor, and generous marbling of zesty blue-green mold.
Sardinian Pecorino was the inspiration for Spenwood, which has a mellow caramel flavor.
Cheddar is the cheese we associate with England above all others, and the one that Mary Quicke makes on her Devon farm is as bright and grassy as the pastures her cows graze on.
Stichelton is a velvety, blue-veined, raw milk cheese rescued from extinction by Neal's Yard Dairy owner Randolph Hodgson and cheese maker Joe Schneider.
Simon and Tim Jones's long-aged, cheddar-like Lincolnshire Poacher has a distinctive, juicy tang.
Pale-orange Cheshire likely dates to Roman times, and the Appleby family has been making the lemony, subtly saline one pictured above for generations.
Cheese maker Graham Kirkham's mother passed on her old-fashioned method for making Lancashire, which allows time for citrusy, yogurt-like flavors to develop. It has what aficionados call a "buttery crumble" texture, which sounds like an oxymoron, until you try it.